How to choose your Ultimate Sleep pillow
Pregnancy - what to expect
Back pain & overall discomfort
Want a pregnancy & breastfeeding pillow
Trouble sleeping on your side?
Lower back pain, leg cramps, muscle tension and aching joints. These are common symptoms that you would be expecting, especially if you are currently in the last trimester of your pregnancy. Your baby is growing rapidly and the additional weight and pressure of the baby you are carrying inside will put your back in great stress.
Try easing your symptoms with a good exercise programme and a good pregnancy posture. As much as you can, stand tall with your back straight and pelvis tucked under so that the weight of your baby is evenly distributed and supported by your thighs, buttocks and stomach muscles. Rest whenever you can, with your legs up for an hour or two each day.
If you have trouble sleeping at night, try taking a warm bath and a glass of milky drink before bed to help relax your body. Invest in a good pillow that will support your body and reduce your pains.
Remember! It is important that you get plenty of rest before the arrival of your baby.
If you suffer from lower back and hip pain, we highly recommend the Ultimate Sleep -U Regular for total body support. With the U shaped pillow you don't need to fumble with a separate sleeping pillow or any other kind of support pillows to get comfortable
The versatility of the UltimateSkies Pregnancy & Breastfeeding pillow is exceptional, So far as to say its winning style, ergonomics and multi-pupose lends itself to providing back pain relief, tummy support, pelvic support all whilst providing both a soft feel yet firm support. Look at the videos on how to use this pillow for sleeping.
Whats more, when you have the baby, it is highly recommended by breastfeeding professionals due to providing the following elements:
Ergonomic positioning for baby and motherOptimal attachment height (adjustable for different breast sizes)Additional around the back supportAngled positioning to promote optimum milk flow to babys stomach (hence reducing reflux, and spillage)
Listen to what health care professionals say about our pillow.
You are nearing the 3rd trimester and it's recommended that you sleep on your side. As your baby grows there is increasing pressure on your pelvis and in turn discomfort and pain around your back.
Therefore, its important that you obtain pelvic alignment, support your bump and hug your pregnancy pillow to give you comfort and support. Depending on your height, and your needs – there are two types of pillows health care professionals recommend.
Total Body support with the Ultimate Sleep U pillow– if you want both pelvic support, back support, head – shoulders – bump support – then this functional and supportive pillow will provide all round support, and also convert to the ultimate resting chair, belly pillow (shape it like a pretzel) and use it for a breastfeeding chair in bed.The Ultimate Skies pregnancy and breastfeeding pillow can be used in three different positions. In the normal side sleeping position this pillow will provide you with a sleeping surface, belly support and assist in your pelvic alignment by putting on leg in between your legs. If you are having a bad night of it in terms of your back, then you can flip your boomerang pillow behind your back, this will provide you with back support as well as a sleeping surface and maintain that all important side sleeping position. If you prefer to sleep on your own pillow, the slide the pregnancy pillow further in between your legs and up and around behind your back. This position will provide you with lower back support, ensure pelvic alignment and provide the support for your belly.
This pillow then transforms to be your ultimate breastfeeding pillow, by providing additional back support by positioning one leg behind your back, doesn't matter where you are (in bed, on the couch, on a dining chair) you will always have back support – the ergonomic design of the pillow will then ensure the high part of the pillow is in the right position, on the side where you will be breastfeeding and ensuring optimal attachment for your baby, the other leg of the pillow then is positioned on a slight angle due to the curvature of the pillow – this allows the nutritious breast milk to flow into the baby's stomach and reducing the incidence of any re-flux and spillage.
Customer Reviews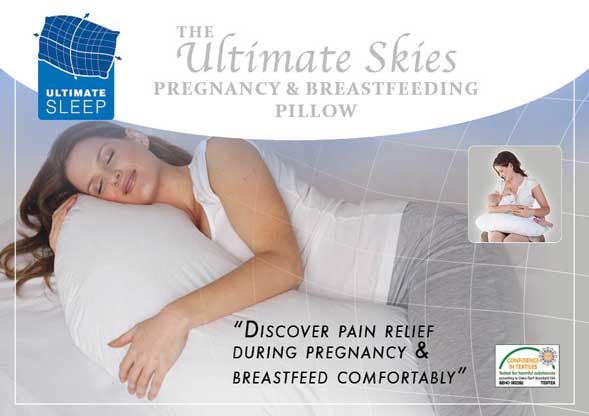 My hubby keeps taking my pillow
So, so comfortable
Great investment
Multiple uses - I couln't believe it
At last a great nights sleep - Zzzz
You get what you pay for, and this pillow delivers
Buy Now
Customer Review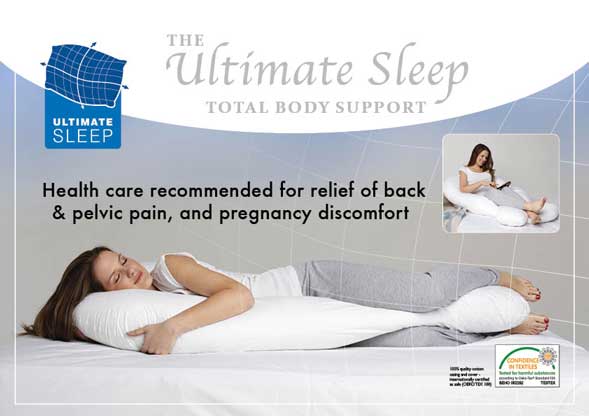 I had back problems and insomnia - No more!
It really relieves the night aches and pains
Its the mother of all pillows
It replaces all 7 of my pillows - Love it.
I'm actually sleeping now on my side
Nothing compares - Absolutely amazing pillow.
Buy Now
Customer Review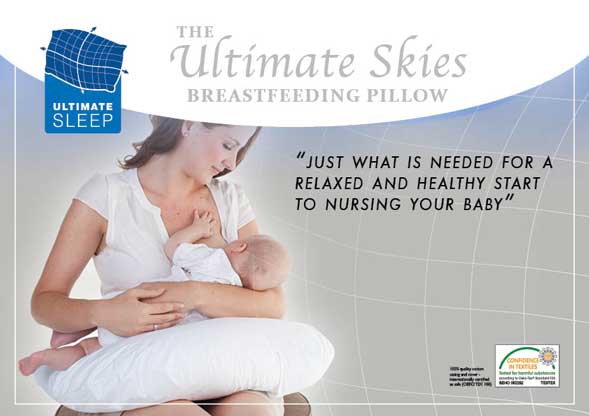 Goodbye neck strain
Perfect feeding solution
It was recommeded to me by my OB
A much needed investment - don't hesitate
Additional support - Multi use
Health care recommended
Buy Now